Chasing the Blues Podcast with Tom "The Suit" Forst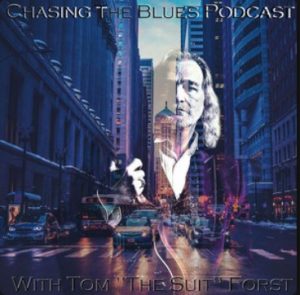 25 YEARS AGO, TOM THE SUIT FORST SOLD HIS SOUL TO THE DEVIL AND BECAME A CORPORATE EXECUTIVE. THEN ONE DAY HE QUIT IT ALL TO PLAY THE BLUES.

Joined by special guests who have included the Beehive Queen of Electric Blues Christine Ohlman  (Saturday Night Live Band), Grammy Award winning guitarist Paul Nelson (Johnny Winter Band), Anthony Gomes, Ally Venable, Joe Louis Walker, Jonathan Long, Sugar Ray Rayford, Wee Willy Walker and more – Tom The Suit Forst chases down classic blues legends, sharing stories of blues' rich and colorful past, and interviewing blues musicians around the world who are keeping the blues alive for future generations. Now available to stream on Apple Podcast and Spotify.